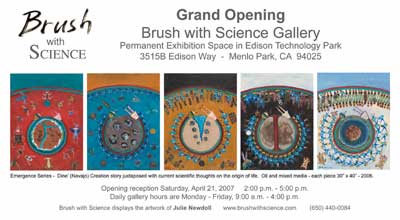 Event date: Saturday, April 21, 2007, 2:00 p.m. – 5:00 p.m.
Address: 3515 B Edison Way, Menlo Park, CA 94070
Phone: 650 440 0084
Web address: www.brushwithscience.com
Life science, mythology and culture merge in the paintings of Julie Newdoll. Come and join her for this grand opening of a new permanent space where her artwork can be viewed Monday – Friday from 9:00 – 4:00. Also on view are stone sculptures from Zimbabwe, Africa.
Directions: This space is technically in a district called Fair Oaks. Web directions are often confusing or wrong. From 101, take Marsh Road West, towards Menlo Park. Make a right on Fair Oaks (shortly before you hit Middlefield). This intersects with Edison Way. Make a right on Edison Way. It is the last building on the left. Entry is on the left side of the building as you are facing it. There are large solar panels in front of the building.